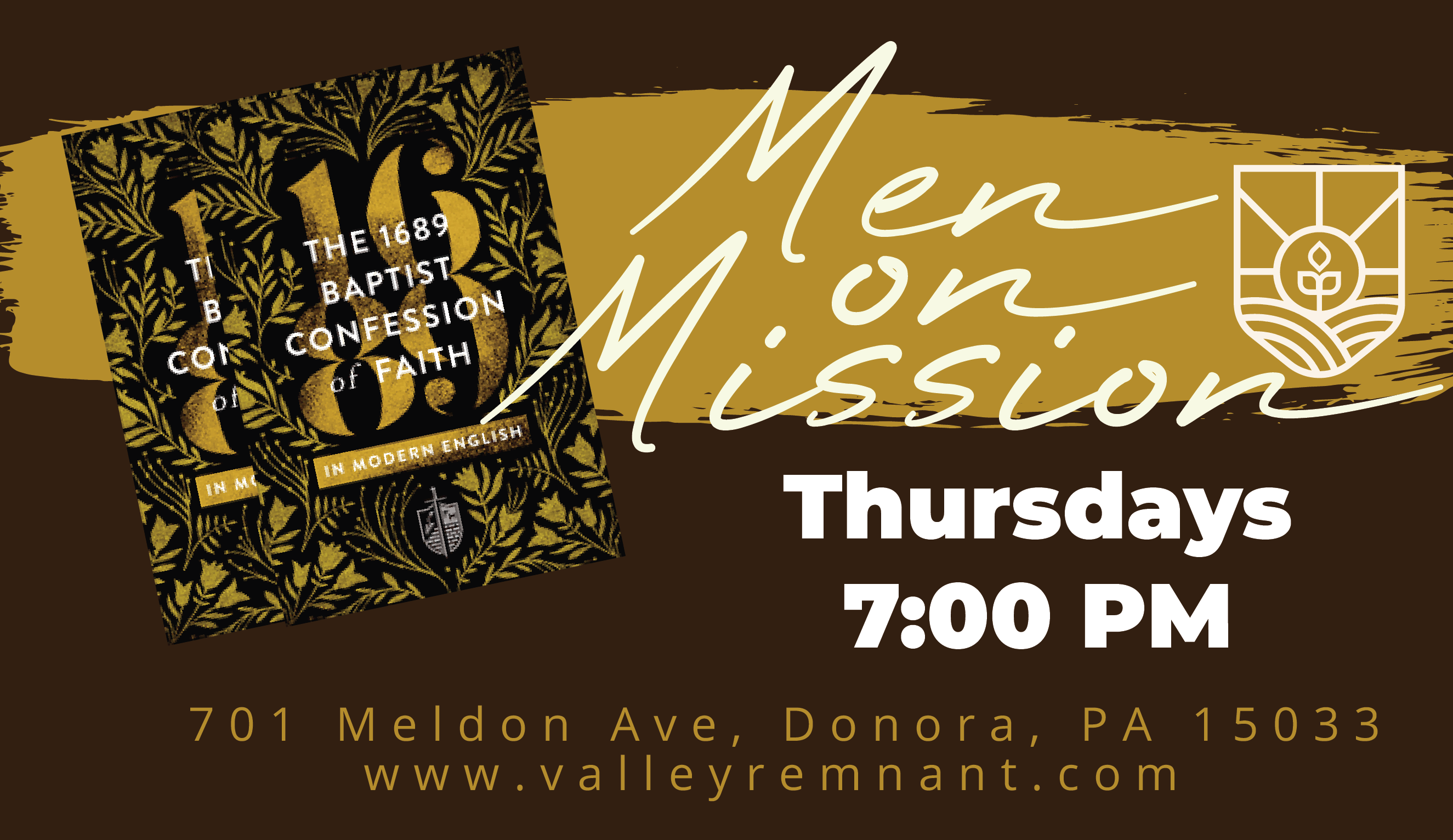 Event Description: Men's Group – Exploring God's Word and the 1689 London Baptist Confession of Faith
Join us every Thursday at 7:00 PM for a meaningful gathering of men who are passionate about studying God's Word and deepening their understanding of biblical principles. Our Men's Group is an enriching environment where we delve into the timeless truths and teachings found within the Scriptures.
During these sessions, we will embark on a comprehensive study of the Bible, uncovering its profound wisdom, historical context, and life-transforming messages. Together, we will explore the depths of God's Word, seeking to align our lives with His divine will.
Additionally, we will delve into the 1689 London Baptist Confession of Faith, a historically significant document that outlines the core beliefs and doctrines of the Baptist tradition. Through this study, we will gain a deeper understanding of our theological heritage and how it intersects with our lives today.
This Men's Group provides a supportive and encouraging space for men to engage in thoughtful discussions, ask questions, and grow in their faith. Whether you are new to studying the Bible or have been a lifelong student, this gathering is designed to accommodate all levels of biblical knowledge.
We invite you to come as you are and join us on this inspiring journey of discovery and fellowship. Together, we will strengthen our faith, build lasting friendships, and grow in our knowledge and love for God.
Date: Every Thursday
Time: 7:00 PM
Location: 701 Meldon Ave. Donora, PA 15033 – During the summer rmonths we are meeting outside in the pavilion located on the corner of 7th and McKean Ave.
Note: Please bring your Bibles and a copy of the 1689 London Baptist Confession of Faith1689 London Baptist Confession of Faith, are available Free of Charge. Snacks and refreshments will be provided.
For more information and to RSVP, please contact 412-969-5499 or info@valleyremnant.com. We look forward to seeing you at the Men's Group gathering as we embark on this transformative study of God's Word and the 1689 London Baptist Confession of Faith.