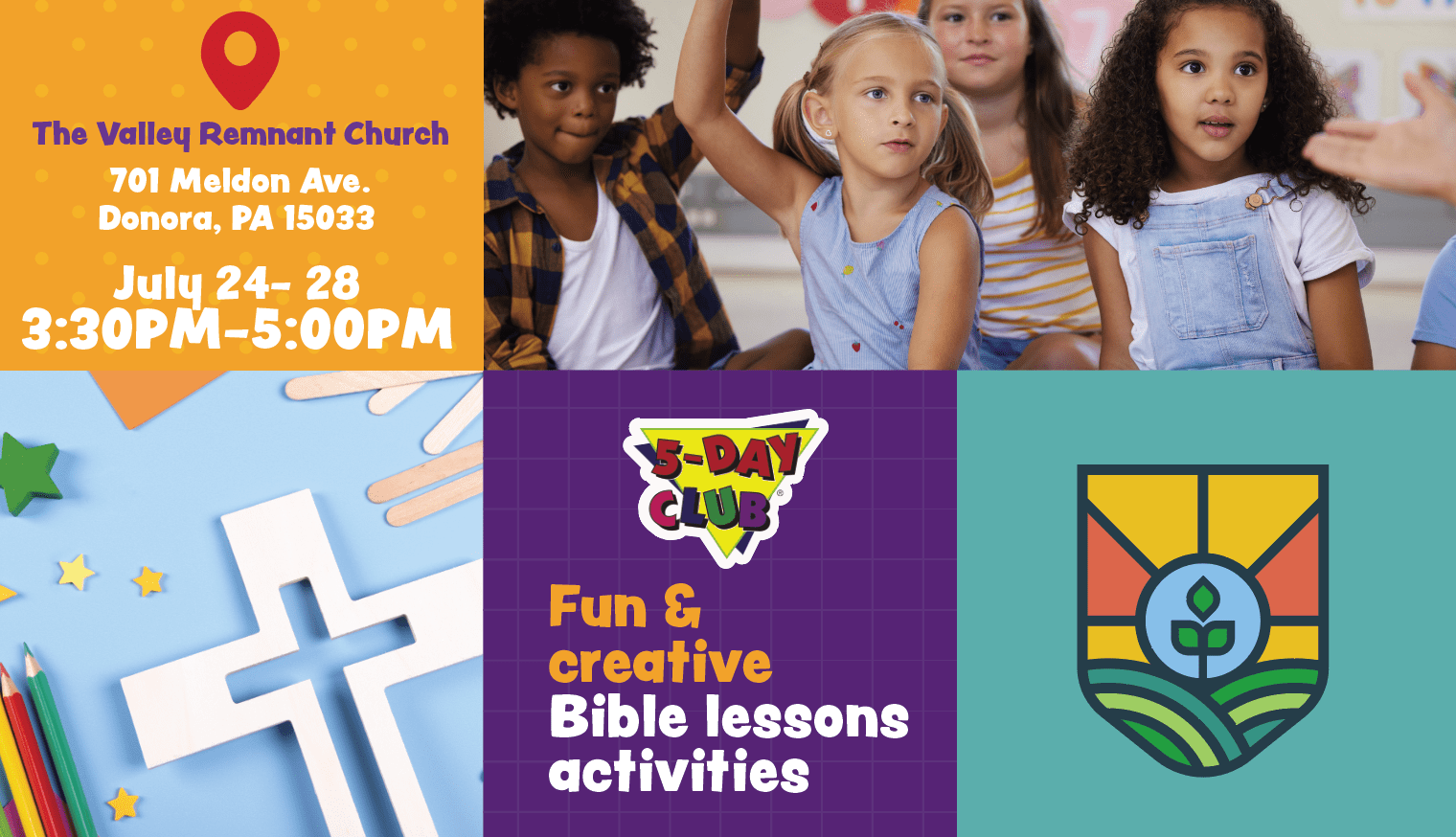 Event Description: 5 Day Club – A Week of Exciting Bible Activities for Children
The Valley Remnant Church, located in Donora, PA, invites you to join us for an extraordinary week of children's Bible activities at our 5 Day Club. This engaging program is designed to provide children with a fun-filled and educational experience that centers around the life-changing teachings of the Bible.
Throughout the five consecutive days, our 5 Day Club promises to captivate young hearts and minds with dynamic Bible lessons, creative learning activities, inspiring missionary stories, meaningful songs, and life-changing Scripture memorization. Each day, children will embark on a one and a half hour adventure that combines learning, fellowship, and spiritual growth.
Our experienced and dedicated team of leaders will guide the children through interactive Bible lessons, bringing the stories and teachings to life in a way that is relatable and engaging. Through creative learning activities, children will have the opportunity to explore and apply the lessons they learn, deepening their understanding and faith.
The program will also feature inspiring missionary stories, sharing the incredible experiences of those who have dedicated their lives to spreading the Gospel around the world. These stories will inspire children to develop a heart for missions and cultivate a global perspective of God's love.
Meaningful songs will fill the air as the children sing praises to God, fostering an atmosphere of worship and joy. Additionally, Scripture memorization activities will empower children to hide God's Word in their hearts, providing them with a firm foundation for their faith journey.
The 5 Day Club is open to children of all backgrounds, ages, and levels of biblical knowledge. Our goal is to create a safe and inclusive space where children can grow in their relationship with God and develop lifelong friendships.
Event Details:
Title: 5 Day Club – Hosted by The Valley Remnant Church
Location: 701 Meldon Ave., Donora, PA 15033
Dates: July 24- 28
Time: 3:30 PM – 5:00PM
Please note that parental consent and registration are required for each child attending the 5 Day Club. Snacks and refreshments will be provided during the program.
For more information and to register your child, please contact info@valleyremnant.com. Also, you can complete the registration form below. We are thrilled to welcome children from the community to this enriching week of Bible activities, where they will encounter God's love and truth in a joyful and interactive environment.
---